Have you heard that September 4 is "National Lazy Mom's Day"? Um. What? We moms know that this is a pretty hilarious concept because having the responsibility of taking care of another living being (or several) means we are always juggling many, many tasks. Truthfully, it would be pretty freaking hard to be lazy, even if we tried! But in honor of this lazy "holiday", we started thinking about some ways to help us shorten that daily to-do list so we can kick back (a tiny bit) from time to time.
Austin Delivery Services:
— BABY EARTH: Same-day delivery on diapers and baby & kid's products
BabyEarth's awesome van makes same-day deliveries on thousands of baby products from the Round Rock store. If you're a busy parent, shopping with a little one isn't exactly the easiest task. But BabyEarth's eco-friendly products can be delivered right to your doorstep within hours of ordering. The Stork van provides "delivery with no labor". You can visit the BabyEarth website to find over 10,000 items ranging from organic cloth diapers & clothes to bath products, strollers, toys, carriers, car seats and much more. Most products are available for same day delivery via the Stork when an order is placed by 1 p.m. Check out the coverage map for delivery service.
— TOYBRARY: Toy lending with delivery membership
Toybrary's lending library features more than 1000 items that are separated into categories including baby, toddler, vehicles, dress-up, dolls, language, math, science, musical instruments, and art. You can sign up for a Delivery Membership for North or South Austin. $40/month membership for 12 months gives you access to the store lending library, but also includes free delivery service. Click here to learn more about their options and pricing.
— GOURMET BY NUMBERS: Meal prep & recipes delivered to you
Gourmet By Numbers makes cooking at home easy and convenient so that you can take advantage of the benefits of a home cooked meal even when you're strapped for time. You don't have to be a chef. You don't need any fancy equipment or tools. You don't even need to know any recipes. They provide chef-inspired gourmet meal kits with the ingredients prepped in the exact quantities you need them and an easy-to-follow recipe. You can subscribe to the service for meals meant for 1, 2 or 4 people. Click here for pricing and details.
— FARMHOUSE DELIVERY: Bringing the Farmer' markets to you
If you're super into the idea of sustainable, local farming AND don't feel like leaving the tranquility of your domicile, Farmhouse Delivery is the service for you. Membership includes a weekly or bi-weekly delivery of fresh, local produce, along with any local dairy, meat, poultry and baked items you order. The food is sourced from Texas, primarily from farms within 150 miles of Austin. There is a one-time $20 fee to set up your deliveries, with Large Bushels (serving 3-4) priced at $39 and Medium Bushels (serving 1-2) for $27.
—
Tiff's Treats: Made From Scratch Cookies, Delivered
Tiff's Treats
was started in 1999 by two University of Texas students, Leon and Tiffany, who created the first warm cookie delivery concept in the nation. They sell classic cookies, made from scratch, right out of the oven. The cookies are hand-delivered warm and fresh straight to you (or often as a gift to someone else.) There is delivery fee of $5. Tiff's Treats could soon become a regional or even national brand, as the ABJ reports the Austin company recently secured more than $14M of funding for expansion. That's a lot of dough.
— TASKRABBIT: Have someone else do your chores
Need someone to clean out your garage? TaskRabbit can help with that. Or if you're just looking to have someone pick up and deliver your laundry, that can happen too. TaskRabbit is a website and mobile app that allows people to post their needs in a community space along with a price they are willing to pay for said task. Then a (background checked) TaskRabbit will pick up the job and do it for you.
— INSTACART: Groceries Delivered to Your Door
Founded by former Amazon.com engineer, Instacart entered the Austin market in May 2014. The service offers delivery from Whole Foods Market, Costco, H-E-B, Royal Blue Grocery, Central Market, Greenling Organic, Tomlinson's, and Petco. Delivery shoppers have three options to choose from: delivery within one hour for a delivery charge of $5.99, within two hours for a delivery charge of $3.99, or at a designated time. There is also a $99 annual membership option which gives free delivery on orders more than $35. In its first year in Austin, the company delivered 3,245 cases of Topo Chico and 3,061 containers of Hummus.
— GREENLING: Delivering locally grown & organic
What sets Greenling apart in Austin's saturated grocery-delivery market? For one, they've been doing it for nearly a decade. The Austin company began offering organic food delivery in 2005, recently tweaking its business model with a focus on healthy, ready-to-prepare meals. You can browse a huge selection of all-organic and/or local food, see the prices right up front, and get what you want on the delivery day of your choice. The minimum order is just $25, and there are no delivery fees, subscription costs, or membership dues.
— DRIZLY: Beer, Wine & Liquor Delivered
Drizly delivers beer, wine and spirits right to your doorstep. The selections and prices come directly from stores in your neighborhood, with no price markups. Just download Drizly to your iPhone or Android, or log on to Drizly.com. From there, simply add your favorite beer, wine and liquor to your cart, and your alcohol will be delivered in less than one hour. The delivery fee is just $5. Want to give Drizly a try? Enter the promo code "512" and they'll hook up a FREE DELIVERY on your first order.
— POSTMATES: The FedEx of Home Delivery
Postmates offers on-demand delivery from just about any restaurant or store in Austin. Via the Postmates app, available for iOS and Android, users can browse an inventory of thousands of restaurants and stores and order items instantly. Then you can watch your "Postmate" (either a driver or bike messenger) moving around on the map and track your order status in real time. Deliveries start at $5, and users pay for everything within the app. They are currently featuring 24/7 delivery from Whataburger for just $2, which is almost too good to be true.
— FAVOR: Your Personal Delivery Assistant
Favor's motto is Get Anything Delivered. The Austin-based delivery app was developed by entrepreneurs and former pizza delivery guys, currently employing over 3,000 tuxedo-t-shirt wearing Runners in 11 cities. All orders have a $5 fee plus 5% of the cost of items, and a tip to the runner.
— PUSH FOR PIZZA: It's exactly what you think
After downloading the Push For Pizza app and entering your address and payment information, you're just a tap away from ordering from a local pizzeria. The pizza, delivery, and tip are all paid for before the delivery person arrives. Easy peasy.
— UBEREATS: lunch delivery service in Austin
In August of 2015 the ride-sharing company Uber brought UberEATS to Austin, offering lunch delivery for customers in the downtown area. The current delivery service area is contained between North Lamar, West Cesar Chavez, I-35, and West 38th, but that delivery area will undoubtedly expand in the future. Restaurant partners include East Side King, Swift's Attic, Gourdough's, The Peached Tortilla, Chi'Lantro, and more. Meals will be delivered within 10 minutes, with a $3 delivery fee.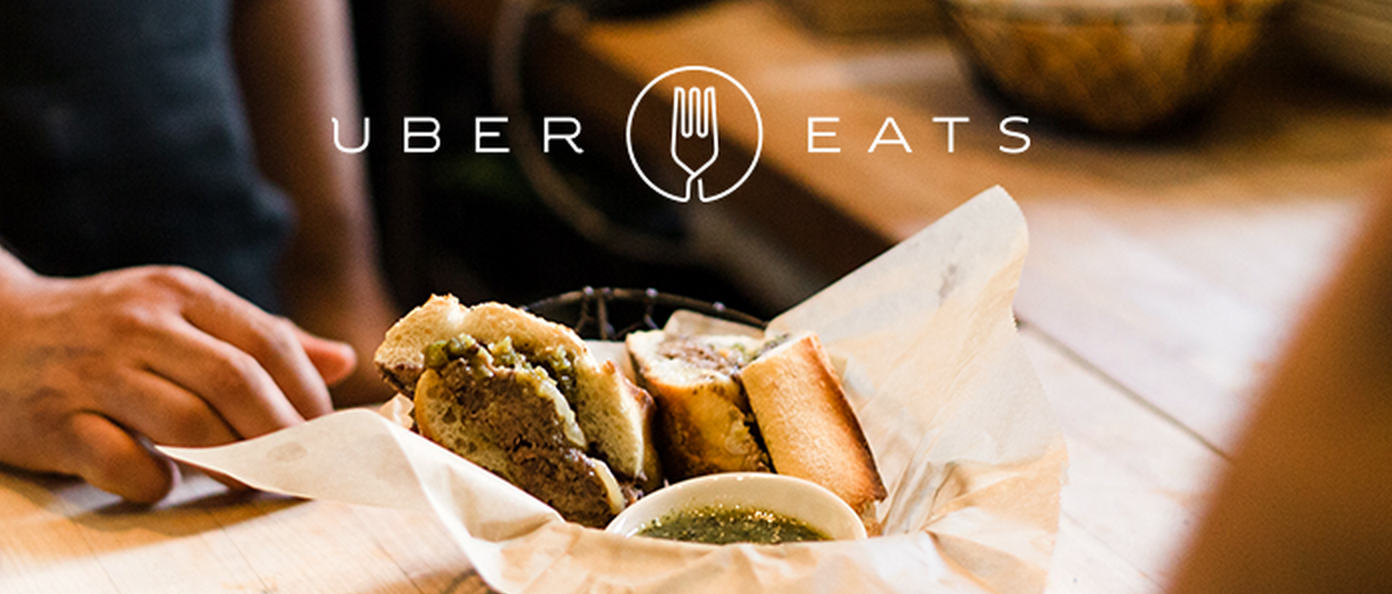 If you need even more options for food delivery in Austin, check out:
Do you use any other local delivery services? Share in the comments below!